Youth Football Academy - Coming To Greensboro In Summer 2023!
We are excited to announce that we are starting a Youth Football Academy at Proehlific Park this Summer. This is a competitive program where we will hold an evaluation prior to the program kicking off. We plan on taking a limited number of players per age group. Players will receive high-level coaching to help them develop as overall football players. For example, players will learn the nuances of different defensive coverages, wide receivers will improve upon their route-running ability, and quarterbacks will learn how to read defensive coverages and make progressions. 7 v 7 and 5 v 5 flag football games will be played during each training session to help reinforce new concepts.
This program is not designed for beginners and we aim to foster a competitive environment where we can form travel teams in the future to compete in tournaments. If we feel that we already have a team that can compete at the highest level this Summer, we may reach out to parents within the program to compete in a tournament towards the end of this Summer.
Dates, pricing, age groups, and a program breakdown are listed below.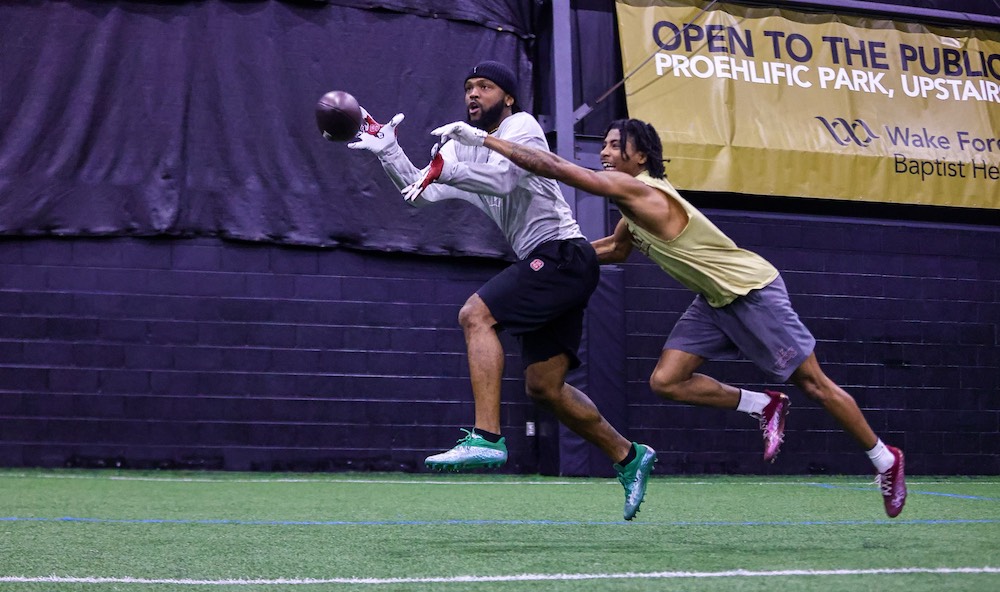 Dates
Evaluations ($15 Eval Registration Fee)
Age group is based on age as of January 1st, 2023. Once we select players, we may place them in an older age group based on their capabilities.
Location: Proehlific Park Outdoor Field 3
8 U Age Group: Wednesday, June 7th, 5:30 PM - 7:00 PM
10 U Age Group: Wednesday, June 7th, 7:00 PM - 8:30 PM
12 U Age Group: Tuesday, June 6th, 5:30 PM - 7:00 PM
14 U Age Group: Tuesday, June 6th, 7:00 PM - 8:30 PM

Evaluation Registration

If Selected to Participate in Group​
We will select players from evaluations to be a part of the 6-week program. We will email everyone the week following evaluations to register for the full program.
Please keep in mind depending on registration numbers, we may combine age groups practicing on the same day, into the earlier time slot.
Location: Proehlific Park Outdoor Field 3
8 U Age Group:
Wednesdays: 5:15 PM - 7:15 PM
June 21st, June 28th, July 12th, July 19th, August 2nd, August 9th, August 16th (Make Up)
10 U Age Group:
Wednesdays: 6:45 PM - 8:45 PM
June 21st, June 28th, July 12th, July 19th, August 2nd, August 9th, August 16th (Make Up)
12 U Age Group:
Thursdays: 5:15 PM - 7:15 PM
June 22nd, June 29th, July 13th, July 20th, August 3rd, August 10th, August 17th (Make Up)
14 U Age Group:
Thursdays: 6:45 PM - 8:45 PM
June 22nd, June 29th, July 13th, July 20th, August 3rd, August 10th, August 17th (Make Up)
Daily Program Breakdown
15-minute Dynamic Warm Up
90 Minutes of Activity
Drills specific to different position groups
Game Play
Learn offensive plays
Learn defensive coverages
15 Minute Cool Down
Everything Included with Price
6 two hour training sessions in total
2 Different colorway academy shirts used to practice every week
3 Paid coaches at every practice
Registration Fee: $250
Contact:
Please contact Tristan Kilgannon with any questions (tristan@proehlificpark.com).

Evaluation Registration