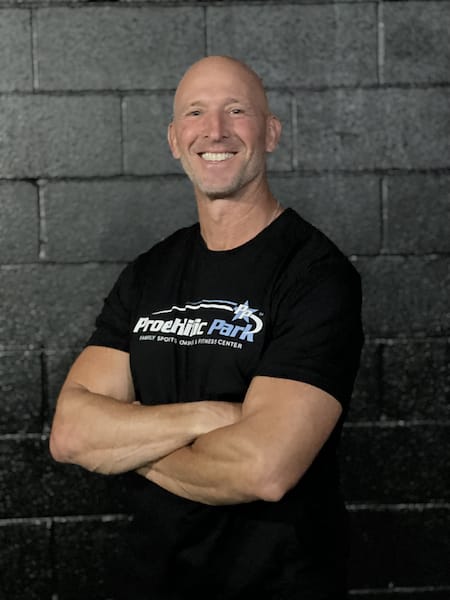 Ricky Proehl
For a remarkable 17 seasons – almost unheard of in today's NFL – Ricky Proehl was one of the most sure-handed and clutch wide receivers in the game of football. His dedication, once reserved for the football field, is now seen in his work as the owner of Proehlific Park. He is involved in every facet of the business that he loves.
Proehlific Park sits on 22 acres and is 86,000 square feet on the inside, which includes a 70 yard turf field, basketball courts and a private fitness center for adults only. "I've always wanted to leave a footprint on this community," said Proehl. "I want to provide a place where children can play, families can enjoy each other, and people can meet and make new friends. We are a community that we fondly call, Our Proehlific Family."
Ricky's ties to the region began as an all-star and record-breaking receiver at Wake Forest University, "I had several opportunities to continue playing football," said Proehl, who played for six NFL teams including the Carolina Panthers. "In a way, it's an opportunity for me to help out a community that I fell in love with nearly 30 years ago."
COACHING
While Ricky's experience in the NFL is long as a player, he also spent 6 years coaching wide receivers for the Carolina Panthers. In 2017, he put family over football and stepped down from his position to watch his sons play the game he loves. Austin, his oldest son is a wide receiver and will be a senior at UNC in Chapel Hill next year. "He's been my role model," Austin says. "Growing up watching him play for so long and always wanting to be around him, it's been hard having him gone all the time — but I knew he was doing what we all love." Blake his youngest son will begin playing at East Carolina University next year as a freshman. Ricky has tried being there for his kids over the years, coaching both boys in pop warner football and helping their older sister with her soccer play. But he says he missed a lot of holidays and birthdays over the years.
"Just being a dad and being able to get to the games. I can't wait to be sitting up there in the stands and watching them play. I know I'll be proud, Ricky said. It makes me smile just to think about it."
COACHING ACCOMPLISHMENTS
In 2015, Proehl's ability to get the most out of his players was evident as his position group helped the Panthers reach Super Bowl 50 and lead the NFL with 500 points and tie for third with 35 receiving touchdowns despite losing No. 1 receiver Kelvin Benjamin to a season-ending knee injury in training camp. Under Proehl's guidance, Ted Ginn, Jr. moved atop the depth chart and responded with 44 receptions for 739 receiving yards, and a career-high 10 touchdowns, becoming the first Panthers wide receiver with double-digit touchdowns since Steve Smith had 12 in 2005. Proehl also received solid performances from second-year receiver Philly Brown and second-round draft choice Devin Funchess as they combined for 62 receptions for 958 yards and nine touchdowns. Carolina averaged 12.9 yards per reception, the third-highest mark in the NFL.
In 2014, Proehl led a corps full of new faces following the offseason departures of four of the team's top receivers, including Steve Smith. Under Proehl's guidance, first-round draft choice Benjamin set Panthers rookie records with 73 receptions, 1,008 receiving yards and nine receiving touchdowns. The totals ranked third among all NFL rookies. Proehl's group helped the Panthers' passing offense improve 10 spots from 2013.
In 2013, Proehl coached a group that did not feature a standout performer but had solid contributions from its top three receivers – Smith, Brandon LaFell and Ginn – as each posted more than 500 yards and at least four touchdowns. Under Proehl's tutelage, Ginn, just one year removed from a two-catch season in San Francisco, registered 36 catches for 556 yards and five touchdowns.
As assistant wide receivers coach in 2012, Proehl helped Smith record his second consecutive 1,000-yard receiving season and seventh overall as Smith became the 27th player in NFL history to reach 11,000 career receiving yards.
FOOTBALL ACCOMPLISHMENTS
Proehl played in four Super Bowls, one with the world champion St. Louis Rams in Super Bowl XXXIV and the other with the world champion Colts in Super Bowl XLI. One of Ricky's most memorable moments as a player was when the Rams played against the Tampa Bay Buccaneers in the 1999 NFC Championship Game. Proehl caught six passes for 100 yards against the Bucs, including the game-winning touchdown.. That TD catch was a fight to the end zone. Ricky went up for the ball against his defender, catching it with one hand, and staying in bounds, for the game-winning touchdown, with only 4:44 remaining on the clock. The Rams won, 11-6, to advance to the Super Bowl. That season ended, with a dream come true, as the Rams won the Super Bowl against the Tennessee Titans 23-16, after the Titans tied the game with just 2:00 left in the 4th quarter.
In the 2001 Super Bowl (XXXVI) against the New England Patriots, Proehl caught a touchdown pass with 1:30 left to tie the game, 17-17. Proehl's heroics were dampened when New England's Adam Vinatieri kicked a last-second field goal to give the Pats a 20-17 victory. Vinatieri proved to be a thorn in Proehl's side again two years later. With 1:08 remaining in Super Bowl XXXVIII against New England, Proehl hauled in a touchdown pass to knot the score, 29-29. Vinatieri again kicked a last-second field goal to give New England a 32-29 win. Proehl and Vinatieri were united in 2006 when they both joined the Indianapolis Colts, who captured Super Bowl XLI with a win over the Chicago Bears.
Proehl's NFL career began in 1990, when the Arizona Cardinals took him in the third round of the NFL Draft. He became the first rookie in 40 years to lead the Cardinals in receiving. Proehl went on to play four seasons with Arizona before being traded to Seattle, where he played two years.
After playing one season with Chicago, Proehl moved to St. Louis to join the Rams in 1998. He spent five seasons with the Rams and was a key cog in the St. Louis offense, which was billed "The Greatest Show On Turf".
Proehl returned to North Carolina in 2003, joining the Carolina Panthers as a veteran receiver under coach John Fox. After working as a color analyst with the Rams' preseason television games and the Rams radio network, Proehl came out of retirement late in the 2006 season to join the Colts and quarterback Peyton Manning.
Proehl emerged as an NFL prospect during an illustrious four-year career at Wake Forest from 1986 to 1989. Considered one of the best to ever wear the Old Gold and Black, Proehl left Wake Forest as the holder of almost every major receiving record in the Demon Deacon record book.
Prior to coming to Wake Forest and the state of North Carolina, Proehl was a standout athlete in New Jersey at Hillsborough High School. A star in both football and baseball, Proehl caught 42 passes as a senior for 900 yards and 13 touchdowns. He was named New York All-Metro, all-state and county player of the year and gained attention from several major college football programs.
Proehl and his wife, Kelly, live in Greensboro. The couple has three children – daughter Alex and sons Austin and Blake.